Voted best Wings in Central New Jersey - 2016
We'd like to thank our valued customers for voting our wings BEST in Central New Jersey for 2016 AGAIN!!!!
If you like chicken wings, or even if you consider yourself a connoisseur, our wings are one for the bucket list. The Golden Lion's wings have been consistently voted the best wings in the area by the Home News Tribune and its readers. Each wing is hand-breaded with our home-made breading, then coated in our own Signature Buffalo wing Sauce. Wings are also available without breading upon request. From our Mild to Atomic Signature Buffalo sauces, or one of our 14 sauces and rubs, there's a flavor for everyone.
Choose from the following flavors. Mild, Medium, Hot, Atomic, BBQ, Honey BBQ, Kicken BBQ, Cajun,
Honey, Teriyaki, Old Bay, Garlic Parmesan, Mango Habanero, Sweet Red Chili & Sweet Wasabi.
Click here to view our Full Menu
Welcome to The Golden Lion Inn
Originally built as a hotel in 1908, the building was converted into a bar when Prohibition ended.
Purchased in 1977 by Art Dana, the Golden Lion has become a Milltown NJ Institution. We are proud to have served generations of families for 38 years
Today we are a small town bar featuring a state of the art Draft Beer System with 8 of your favorite Beers on tap. Served Ice Cold! The ice cold draft beers go great with our highly acclaimed chicken wings and Old-Fashioned Bar Menu, including fresh, home-made 8oz burgers, and a wide variety of creative wraps, and sandwiches.
Click here to view our Full Menu
ICE COLD Draft Beer!!!!
Our State of the Art Draft Beer system pumps out 8 of your favorite draft beers. Serving domestic favorites including Yuengling, Bud Light, Miller Lite and Pabst Blue Ribbon. We also regularly rotate our Craft Beer and Imported favorites. We currently offer Stella Artois, Shock Top Belgian White, and Goose Island IPA.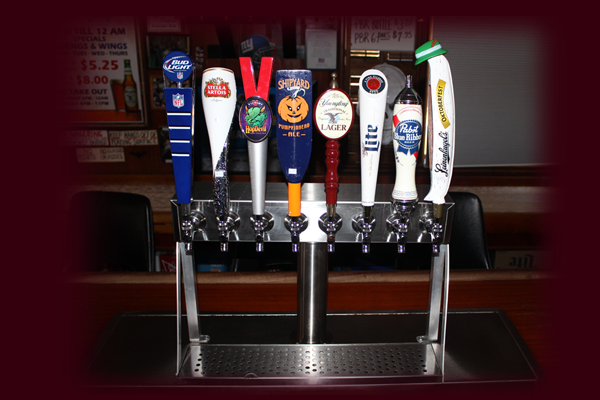 Relax, Have Fun.....
The Golden Lion Inn is more than amazing Food and Drink. The Golden Lion Inn has the usual tavern sports, Pool Table and Dart board. However, unlike most local bars, we also have 2 spectacularly maintained, full regulation size, Shuffleboard tables for our patrons to enjoy. If you're more than a casual player, the Golden Lion Inn sponsors an in house Shuffleboard league. Along with shuffleboard, we support traveling Pool teams.